About 85% of people watch Facebook videos ON MUTE. Making sure your livestreams have closed captions will make your videos more accessible to a wider audience and help viewers comprehend your content better. In a world where content creation is highly competitive, we need to make sure our content is up-to-date and inclusive. 
So if you are doing livestreams, and you should be, then you will want to make sure that they are properly captioned.  
How to enable closed captions in Facebook Live broadcasts
All you need to do is go to your public Facebook page and click on create "LIVE." 
This will take you to your Stream Set Up page. Go down to "settings" and click on "viewing," and make sure to turn on your "auto-generated captions."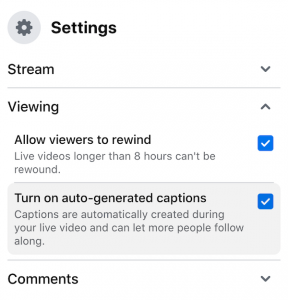 That's it! Now you are ready to start your Facebook live broadcast, closed captions included!
Once your livestream is done, make sure to go back and check out and edit your captions for future viewing. The automatic captions are good, but mistakes can happen.
How to add closed captions in YouTube Live broadcasts
YouTube's states: "Live automatic captions are slowly being rolled out to predicted English channels with over 10,000 subscribers. After the live stream ends, live automatic captions will not remain and automatic captions will be generated based on the video on demand (VOD) process. LASR is specifically for an in-progress live stream."
So if you have less than 10,000 subscribers or don't want to wait for the automatic captions being rolled out, you will need an alternative supported software. If you are looking to add closed captions or subtitles to your livestreams or videos, Digital Impact & can help. We will help you ensure that your videos are inclusive so that more viewers are able to experience your content!
Digital Impact & has the technology to produce professional livestream experiences that you can stream simultaneously to various platforms. With our service there are no limitations on how many platforms you can stream your content. We make the setup process easy and help you create a memorable and engaging live event for your audience. All you need to do is show up in-person or virtually to the event and we handle the rest.